Dust Collection
Considerable care must be taken to manage finely divided metal particles and dust involved in the cold spray process. The appropriate NFPA or other applicable standards should be followed when designing, installing, operating, and maintaining dust collection systems that work in conjunction with the SST equipment.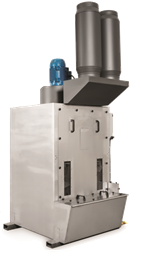 While the following list is not all-inclusive, it may help to know some of the common design requirements. Some key requirements for safe operation include:
The air velocity in conveying pipes must be greater than 4,500 fpm.
Downdraft or backdraft tables should have a minimum of 150 fpm air velocity at the surface.
An air curtain should have a flow of at least 400 fpm.
The mass of accumulated aluminum powder should never exceed 1 pound.
To collect the waste powder, SST offers both vacuum and filtration systems, integrated into the equipment or as separate accessories.
Vacuums
Only custom explosion-rated vacuums can be used with SST equipment and can be either integrated into custom SST systems or fitted with casters for portability. Typically, these vacuums have a 1-1/2 HP motor operating at 220 V, 60 Hz, and include a HEPA filter for the discharged air.
Wet Filtration Systems
SST offers 2,000 cfm and 5,000 cfm sized wet filtration systems. The advantage of these systems is that they trap the waste powder in water so that combustion does not occur. A supply of water and a drain must be provided with these systems. The escaping moist air is commonly vented to an area where it will not adversely affect the Cold Spray process, such as outside the plant or office.
For more information on the available devices,
contact SST.
---